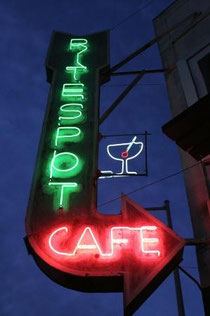 That's a little more like it.
The Rite Spot Cafe is a bar in San Francisco's Mission district.  They had had a monthly comedy show there for a while, which went on until the bar was shut down for a year for renovations.   Since reopening this Spring,  they now host (free) comedy shows every Monday night. 
This was Trevor Hill's show "Misery Index."  Trevor is one of my favorite comics in San Francisco.  I met him before I even started coming into the city for comedy, back when he would make the trek out to Pepperbelly's for the Wednesday night mic.  He's hilarious, smart, van deliver a rant with the best of them and I always enjoy seeing him work. He runs another great show "Hand to Mouth" at the Dark Room Theater, which you can catch this Friday or next month as part of Sketchfest.
This was my first time at the Rite Spot and the place was packed. It was a good night.  Everyone had strong sets from top to bottom.
My set went well.  Everything hit. I did 27 minutes, which really isn't much.  It's fairly long for headlining a showcase, especially in San Francisco, but when you consider that the  recording is going to be double that, it's not long enough to get a feel for the hour.  I'll feel better about it once I get a couple of longer sets knocked out on Wednesday and Thursday.
Tonight is "It's Just Two Minutes," a monthly show that I co-produce.  I'll be opening up the show.  I'm only doing 15, which means I'll be doing the weakest fifteen minutes of material I have in an attempt to shore it up for the recording.  It's not going to be pretty.  I mean it's going to be great! Pretty great!  You should definitely come!