Are you looking for a daily list of comedy shows and open mics in the Greater San Francisco Bay Area? Shows that don't necessarily involve me? That can be found here:
You can also follow all the Bay Area comedy happenings on Twitter at @SFBACN. Find shows and mics, plus top shows highlighted every night.
If you're wondering why this is listed on my website, it's because I do it all, which is why my own website hasn't been updated in forever.
December 2 2014

Only five weeks between updates! That's progress! No, seriously. Last month's swing through the Northwest was great, except that I came down with, according to WebMD, the same virus that killed all the Martians in War of the Worlds.  Had to cancel a week and a half of shows when I got home. Good times! I am fortunately, back on my feet and no longer contagious. It's amazing how much eleven days off will kill your timing.  Hopefully I'm not terrible for too much longer.  Sticking around Northern California for the next couple months before swinging out to Orlando (and possibly a couple other cities) for a few days at the end of January.

October 26 2014

And another three months go by...
I'm awful at this. I have been staying busy though.  Lots of shows coming up.  I'm about three weeks out from a Northwest swing that will take fellow Bay Area comic Leslie Small and I up through Redding, Humboldt (probably), Chico (doubtful at this point), Portland, Seattle.

I took part in the 39th Annual San Francisco International Comedy Competition during September and October.  I ended up finishing 6th overall, one spot shy of making the finals and being immortalized on wikipedia. It was a great experience.  And I got to do this:


Nothing like a sold out crowd of 1,500.  That was fun.

I've also decided to scrap the album I recorded in December. I'd already decided to ditch the video and just go audio, but I'm not happy with that either. Everyone involved did a great job on it except for me. It just wasn't a good performance on my end. The jokes are better than I delivered them that night. It's an expensive lesson, but I'm not comfortable putting out a bad product, and that's what this album would have been. I'll be setting up a new recording date sometime early next year and will let everybody know when I have something more concrete.
July 31 2014
Latest video. This from Amnesia earlier in July.  Behind me is the band Medicine Bug.  They've been doing a lot of comedy shows around the Bay Area and will be starting up a weekly Thursday show at Milk Bar in San Francisco called Rock & Roll Comedy Jam.  So much fun to work with them.  Considering there was zero coordination beforehand, I think this thing turned out pretty well. Looking forward to performing with them again in September.
July 31 2014

Seriously, eight months? It's been eight months since I updated my website?  That's just embarrassing.  I've handed off editing of my album to someone else. It's way overdue.  I unfortunately don't have the time to do that on top of everything else.

I'm in the midst of a stretch where I'm performing every night.  Currently 44 days in.  The goal is to go until just before Thanksgiving, which will put me somewhere around 150 consecutive days.  That's well short of my friend Sammy Obeid's record of 1002 consecutive nights.  He's welcome to keep that one for himself. Nearly three years without a night off? Nope.  All the nope.
And today kicks off a two week road trip.  This was supposed to begin with headlining a show in Fresno tonight, which was unfortunately rescheduled for a date I'm unavailable, so I ended up in Paso Robles.  My route will take me across the southern US, with stops in Tempe, El Paso, Austin, San Marcos, New Orleans, Atlanta, Memphis, Fairview Heights (near St Louis), Oklahoma, & Albuequerque.  Check out my schedule page for the full itenerary.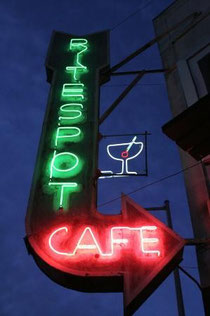 That's a little more like it.
The Rite Spot Cafe is a bar in San Francisco's Mission district.  They had had a monthly comedy show there for a while, which went on until the bar was shut down for a year for renovations.   Since reopening this Spring,  they now host (free) comedy shows every Monday night. 
This was Trevor Hill's show "Misery Index."  Trevor is one of my favorite comics in San Francisco.  I met him before I even started coming into the city for comedy, back when he would make the trek out to Pepperbelly's for the Wednesday night mic.  He's hilarious, smart, van deliver a rant with the best of them and I always enjoy seeing him work. He runs another great show "Hand to Mouth" at the Dark Room Theater, which you can catch this Friday or next month as part of Sketchfest.
This was my first time at the Rite Spot and the place was packed. It was a good night.  Everyone had strong sets from top to bottom.
My set went well.  Everything hit. I did 27 minutes, which really isn't much.  It's fairly long for headlining a showcase, especially in San Francisco, but when you consider that the  recording is going to be double that, it's not long enough to get a feel for the hour.  I'll feel better about it once I get a couple of longer sets knocked out on Wednesday and Thursday.
Tonight is "It's Just Two Minutes," a monthly show that I co-produce.  I'll be opening up the show.  I'm only doing 15, which means I'll be doing the weakest fifteen minutes of material I have in an attempt to shore it up for the recording.  It's not going to be pretty.  I mean it's going to be great! Pretty great!  You should definitely come!

read more
Nov 16 2013
Just added a link in "Other Media" to my appearance on the Armchair Philosophers Podcast.  We sat down and solved most of the world's problems.
Nov 11 2013
I'm just over a month away from recording my first full length album "Daddy Issues" December 14 at the Arcata Theatre Lounge in Humboldt County up on the Northern California Coast.  Tickets are now availabe for sale HERE with discounts available until Nov 20.
Oct 20 2013
It's Sunday! That means I spend the entire day updating my schedule and emailing bookers.  Just added shows in Sebastopol, Berkeley, Walnut Creek, Sunnyvale, Dublin, and San Francisco, including a couple at Cobb's on Friday Nov 1st. 
Oct 14 2013
Schedule is starting to fill in for November and December as I try to line-up as much stage time as possible leading up to my December 14th recording.  I just added shows in Aromas, Novato, Sacramento and a couple more things in Oakland and SF. Also putting together Northwest and Southwest swings for early next year.
Today's is the first Rundown that includes links to all of the shows.  I really want to expand it to make it as useful as possible, but considering the time investment required there, that may also have to wait until post-recording.
Oct 10 2013
"Hilarious Things" can now be heard on Our City Radio's comedy channel.
Oct 2 2013
A new page has been added to me website.  Independent comedy rooms are notoriously fickle.  Sometimes all it takes is one complaint for non-comedy-centric venues to put a stop to running shows.  It's hard to find accurate up-to-date info.  So with that in mind, a few weeks ago I started putting together a daily list of everything stand-up related going on in the Bay Area. You can find it here:
Right now it's just a daily list posted every day around noonish, rain or shine. Once I get a little more efficient at my info gathering, the plan is to come up with a calendar that will give everyone more than a few hours advance notice, plus links to more info, tickets, etc.  It's a work in progress.  Such is life.
Oct 2 2013
New Clip! It's a still-loose bit I'm working on about Miley Cyrus, mostly focused on why nobody should care about Miley Cyrus.  Comedy is...complicated.
Aug 14 2013

The Shits and Giggles Comedy Festival has just posted their festival schedule and my own schedule has been updated with those shows. I'll be in or around Santa Monica on the 25 & 26, but don't have final details on those yet.
Aug 4 2013

I just added an interview that I did with Savage Henry Magazine last year.  They're the producers of S.H.I.T.S. and Giggle Comedy Festival in Humboldt, where I'll be in about three weeks.  You can read it here:
July 24 2013

Just updated my schedule through August (as it stands now).  I'm swinging up to Humboldt at the beginning of the month, down to Orange County and LA at the end of the month, and all the other places in between.  I'm headlining shows in Elk Grove, Modesto, and Redwood City.  On Wednesdays.  All of them.  If I were Native American, that would be my name:  Headlines on Wednesdays.
July 20 2013

New picture!
July 15 2013

Newest video-Zimmerman Trial:
July 6 2013
The latest news is that you can read this.  I put together a website. Just like a grown-up! Well, except that I'm a comedian.  If something isn't working like you think it should be, or you find a typo anywhere, please let me know, so that I may at least convince others that I am a grown-up.
While you're here, be sure to download "Hilarious Things," a 30 minute EP, absolutely free!  If you enjoy it, share it with friends, and sign up for my monthly newsletter to keep up with further developments!
                                                                       Thanks,
                                                                        Matt